[maxbutton id="2″]
Before you buy any hosting plan from eHost.com, here is what you need to know. I share my personal experience with you in this review.
After two months of hosting my 2 websites with Wealthy Affiliate, I realized I needed to move them to a different host. After a lengthy research, I ended up choosing eHost.
Before I decided to buy a hosting account from eHost, I read several  eHost reviews from different websites/people. However, after signing up, I felt there are certain important points they didn't discuss.
Its therefore, for this reason I decided to write one, addressing those issues that I feel are important for anyone buying a hosting plan from eHost should know.
Why I was Migrating & What I Wanted?
Well, if you already have your website hosted somewhere else, and you are looking to find a better host for whatever reasons, then you are not so different from me.
I'd to move my websites due to some reasons, and here is what I was looking for in a web host.
Price (affordable)
Storage & Bandwidth Amount
Quality Help and Support
eHost.com Overview
| | |
| --- | --- |
| Free Domain for life | cPanel |
| Unmetered Storage Space | Free Email Address |
| Unmetered Bandwidth | $200 Free Marketing Credits |
| Unlimited domains allowed | 45-Day Money-Back Guarantee |
| Unlimited MySQL Database | Drag & Drop Website Builder |
Server Specifications
The following are eHost sever specs:
32 Core AMD Opteron™ Processor 6376
64GB / 32GB RAM
4 RAID 1s
SSD MySQL
They run CentOS 6.4 Enterprise Linux x86. The connection speed on their servers is 100 mbps (megabits per second). They also backup your website content weekly.
cPanel Hosting OR Website Builder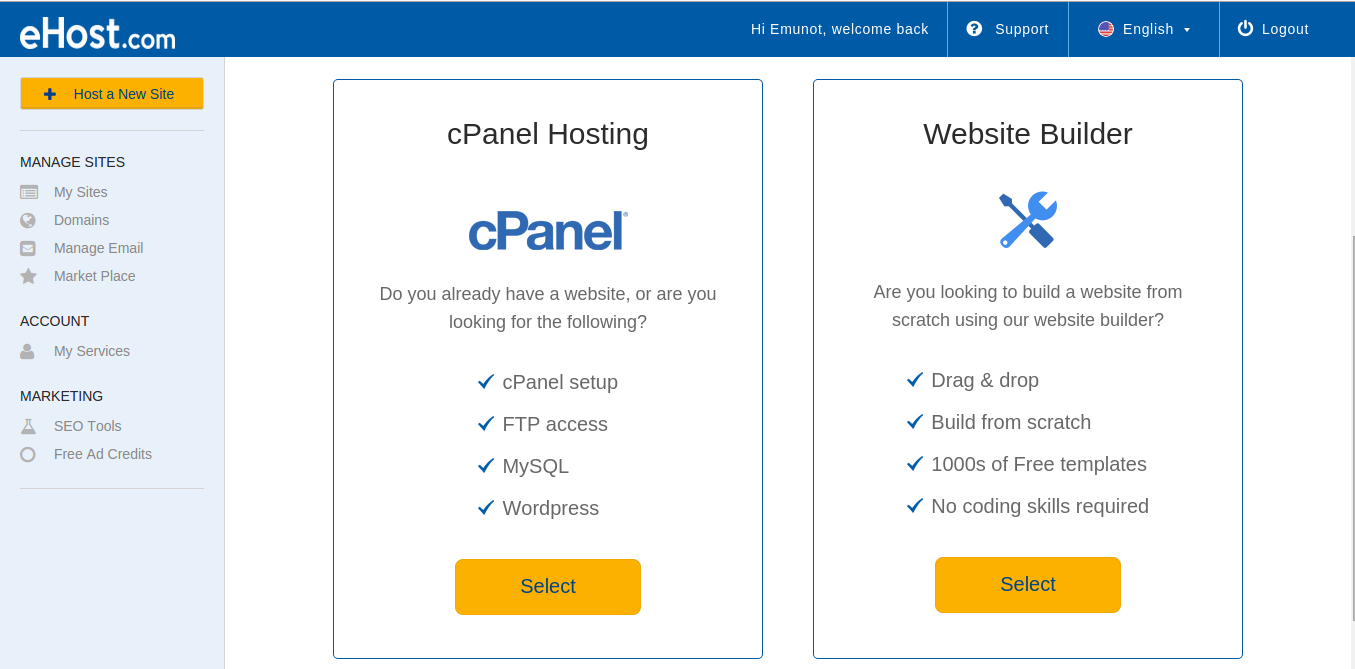 So, here is some bit of confusion. eHost offers both cPanel hosting and Website Builder, however, you have to choose one between these two.
They don't come as a single bundle, they are billed separately. When you choose cPanel, then you don't have their Website Builder,the same applies if you choose Website Builder, you won't use cPanel unless you make you pay another fee to have it included in your account.
If you choose cPanel hosting and in future you realize you need to use their website builder, you will have to make another payment for it. You can have both on your same hosting account, however, you pay for them differently.
In fact, I have to admit that I got confused at this point when I was buying my hosting with eHost. First, I was excited thinking that once you buy a hosting plan with them, you get both cPanel and Website Builder included. I just went about clicking, and I ended up with a Website Builder.
After contacting support team, this is when I realized it's not what I'd thought. I had to cancel a Website Builder plan invoice, and re-apply for cPanel hosting. The invoice for Website Builder was disregarded and a refund was made, of course I had to make a whole new payment for cPanel hosting plan.
If you are looking to set up a quick website with a WYSWYG builder, then a Website Builder plan is a right choice for you. With 1000's of beautiful themes to choose from, you will have a website up and running in just minutes.
To have full control of your websites, install CMS's like WordPress, Joomla, etcetera, then a cPanel is what you have to go with.
CPanel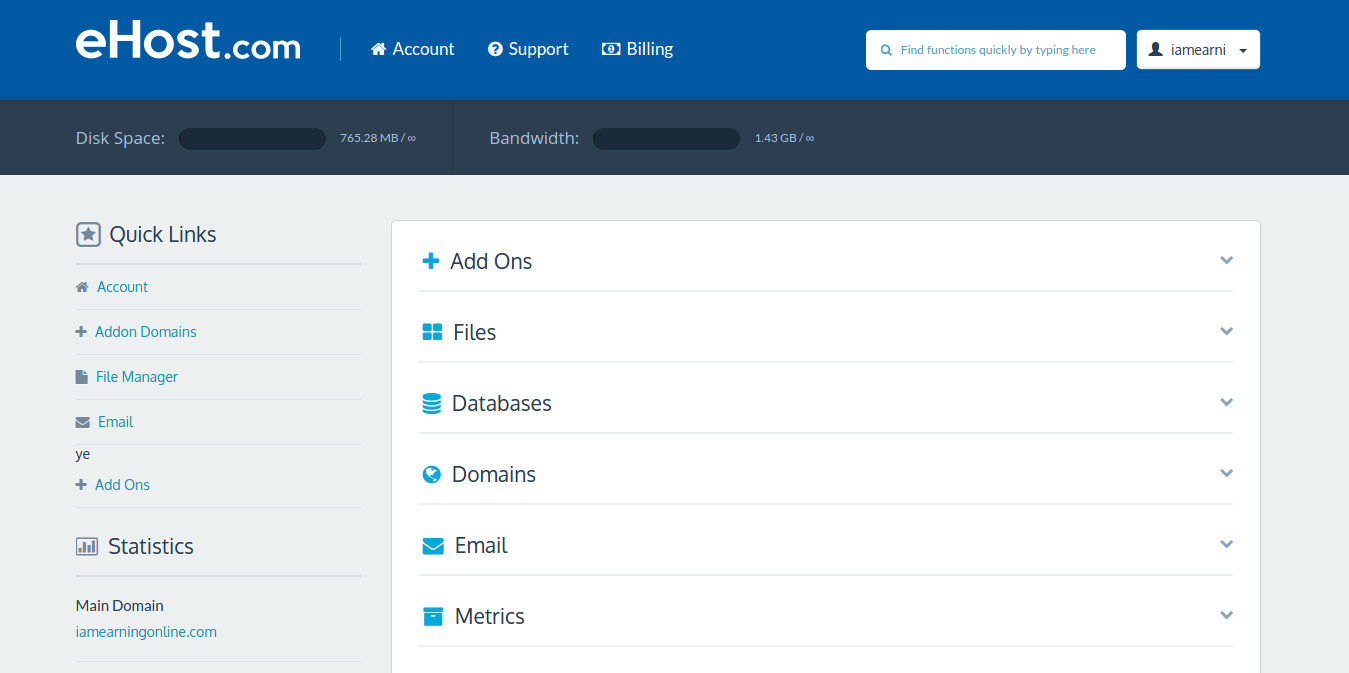 eHost Cpanel is easy to understand, navigate and use. Adding additional features like domains, domain privacy, Search Engine Submision, Site Lock can be done under Add Ons Section.
All features under Add Ons are not free, you pay for the services like Site Lock, domain privacy, etcetera.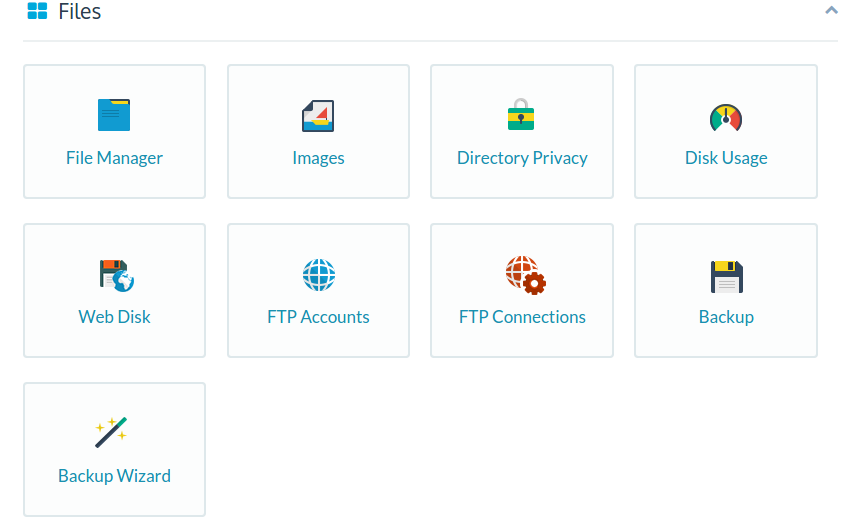 Under Files section, you are able to manage your files, images, check disk usage, create and manage FTP accounts, Backup are some of the features you find here as you can see in the screeenshot above.
Email section lets you create Email Accounts, Forwarders, Autoresponders are some of the features you find here. (See Screenshot below)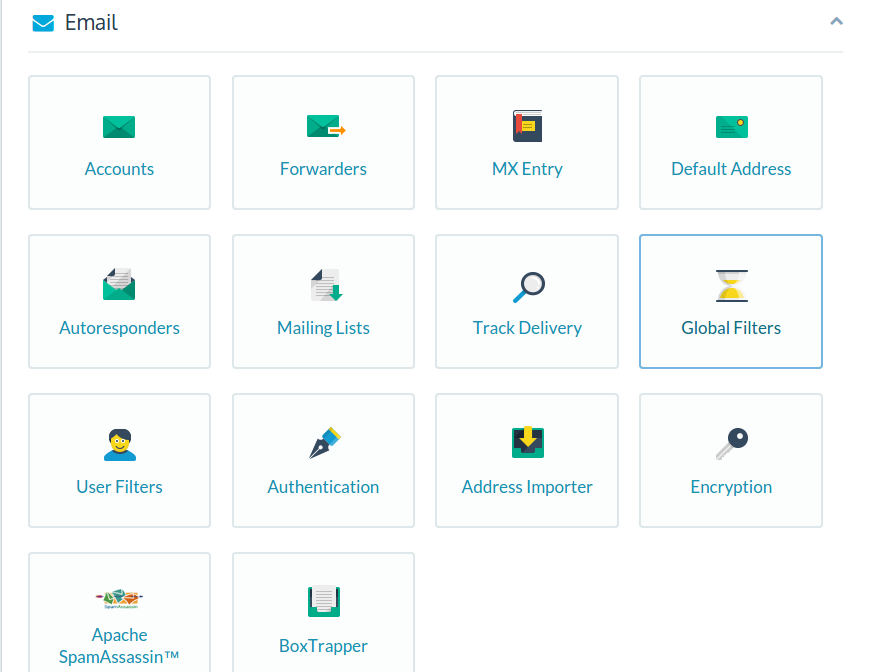 If you are a big fun of CMS like WordPress, Joomla, Drupal, and b2evolution then a quick installer is there for you. Just with a click of button, you have your CMS installed.
You also get to install eCommerce features like Magento, PrestaShop, ticketing system like osTicket which can be used to Manage, organize and archive all your support requests and responses in one place. (See screenshot below)
Free Domain for life?
Yes, you get a free domain for life, not your life, but the life of your hosting plan. As long as you are still hosting your websites with eHost, you will still be owning a free domain without extra payments.
However, if you want to protect your domain, you have to purchase this as an ad-on.
Unlike others, eHost doesn't give you a free domain just for the first year but, for the entire time period you are hosting with them. If you wish to cancel your hosting account and still keep your domain alive with them, you then have to pay for this domain name, which you can then be able to point to another DNS.
Unmetered Storage & Bandwidth?
There are no set limits on the storage space or bandwidth that we provide in our shared hosting plans. We want you to have the resources you need to build a great online presence, and 99.95% of all customers will have more than enough storage space and bandwidth to meet their needs.
eHot doesn't explicitly allot to you storage and bandwidth space, however, they still have a 'normal' limit. It is not small though, unless you are an abnormal user, who does file sharing, you may not really have to worry about exceeding their 'normal' limit especially for personal and small business websites.
In case you exceed the 'normal' usage, you are notified by email and asked to reduce usage which you have to act within 48 hours else, your account is taken offline.
$200 Free Marketing Credits ($100 Google Adwords & $100 Yahoo/Bing paid ads)
eHost gives free free ad credits for you advertise your products/services on Google or Yahoo. However, before you receive and get to use these free credit, on Google you'll need to spend $25 first before the $100 in additional advertising bonus comes in.
45-Day Money-Back Guarantee
If you're not satisfied with eHost, we'll give you your money back. No questions asked. During the first 45 days, we'll refund your hosting fees in full.
I have personally asked for a refund when I mistakenly (chose and tested) a Website Builder. There is no pulling of ropes, you get your refund back if you ask for it, without any friction.
eHost Pricing
| | | |
| --- | --- | --- |
| Billing Cycle: | Regular Price | 50% off |
|  Monthly @ $13.98 ($6.99)* |  $13.98 |  $6.99 |
|  1 year @ $119.76 ($4.99)* |  $119.76 |  $59.88 |
|  2 years @ $167.52 ($3.49)* |  $167.52 |  $83.76 |
|  3 years @ $198.00 ($2.75)* |  $198.00 |  $99.00 |
eHost has an accommodative billing cycle, ranging from $13.98 month-to-month hosting to a $198.00 3-years billing cycle.
You save upto 50% on your initial purchase, after which you will then be billed on a regular price on the next account billing. It is a supper saver especially if you are purchasing for a year or two.
If you have a small budget and can't afford a yearly plan, eHost allows a month-to-month subscription. You can upgrade to yearly or downgrade to monthly at any time.
Their month-to-month payment provision, is one of the reasons why I chose to host with them. Sometimes you don't have enough money to pay for a whole year but, can spend a small budget out of your monthly budget for hosting, then eHost understands you. They can host your website on a monthly basis.
eHost Help & Support
There are 4 ways you can get help and support from eHost. You can search the knowledge-base, or contact support team in one of the 3 ways:
Chat
Phone Call
or via Email
The support via Chat is remarkable. Its one that I use more often compared to the rest.
You can also submit a ticket which can take about 48 hours to receive an update. This somewhat annoying especially if you are impatient like me, however, a phone call can be much more appropriate which can take up to 2 minutes to be answered.
Who eHost is Suitable for
Personal website
Small Business Website
Simple Online Store
If you are looking to host a personal or a small business website, then eHost is a right choice for you. They'll deliver excellent services to you.
Though you may require a dedicated server for an online store, you can still install online store software suites like Magenta, ZenCart, CubeCart, or OsCommerce and get your online store up and running without buying bundled package from other hosts like Yahoo stores or Shopify.
Pros
Free domain for life
Month-to-Month payment
Unlimited domains allowed.
Quick install
24×7 Chat/Email/Phone Support
Free Email address (cPanel)
Free website transfer
Cons
Many up-sell add-ons
Tickets take long to get replies
My Personal opinion on eHost
Ever since I purchased my hosting account with eHost, I haven't got into any trouble. Each time I need technical support, I just reach to a chat and have technical team fix the issue.
Too many up-sells is the annoying thing I find with them especially when you are just buying for the first time. I remember looking at my total amount on check out, and I was wondering where this all had come from. Only to realize, add-on upsells where checked by default.
So, its important to be careful when buying a hosting account with eHost. Double checking your totals before check out is a nice idea, even though they can refund you back extra fee those upsell add-ons.
Nevertheless, I'm currently one of their happy customers, hosting my 3 websites with them (including this), I find them much more affordable compared to other hosting companies.
Its easy to install and setup a WordPress site with their Quick Install, not only for WordPress but also other popular CMS's. They also help in moving/transferring your website from another host to their host.
I personally find eHost a great hosting company. Until I find any serious bad side about them (which I will not hesitate to write about), I will continue recommending them as the best hosting so far.
[maxbutton id="2″]
Over to you
To try eHost for yourself, click this link to create an account with eHost and claim your 50% discount. Remember, you can always cancel your account and get your money back without questions within 45 days, in case you do not like or not satisfied with their services. So, there is no risk in trying them out.
If you have any experience with eHost that you would like to share, please leave it in the comment box below. I will be glad to read about your experience with them.
For any comments and questions, don't hesitate to leave them below and I will be more than glad to read and respond to you.