There are a hundreds of cool website builders out there, but not all of them are really easy and simple to use builders. Most of these builders, require some skills before you can actually build any website with them.
However, Strikingly makes it way easy and simple to build a stunning one page website. Its remarkably easy to build a one page website with Strikingly.
Unlike other website builders you might have used, Strikingly isn't a drag and drop builder. You build your website just like you would edit a power point document.
Click here to try Strikingly Website Builder
Strikingly Builder Review
---
Lets take a look at Strikingly Builder and how you actually get to build a website with this builder.
Templates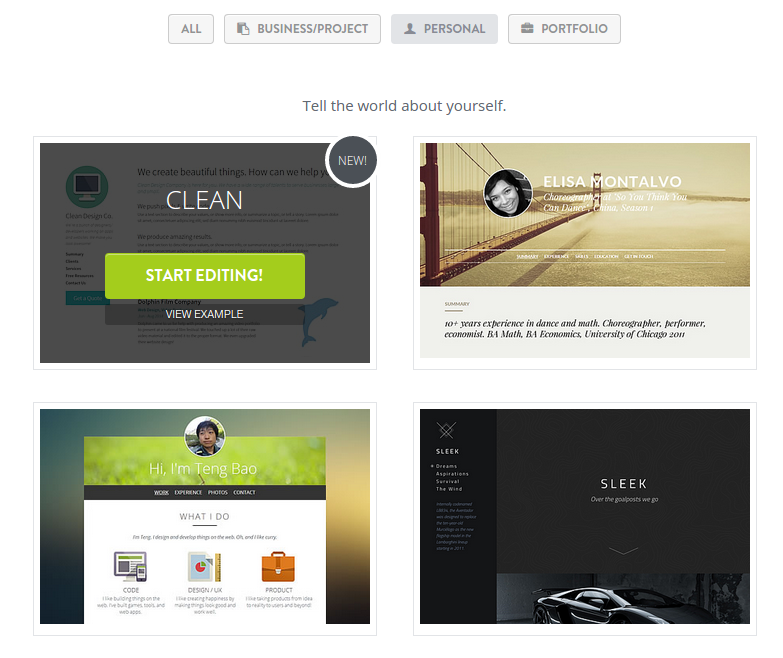 Strikingly has few templates, the collection isn't really huge. But, even when they are few, they are clean, smooth and sleek. The templates you get to use are truly high quality modern templates.
They are categorized into Business/Project, Personal and Portfolio. You choose depending on which kind of website you want to create.
To start building your website, you choose a template which you then start editing right away.
Interface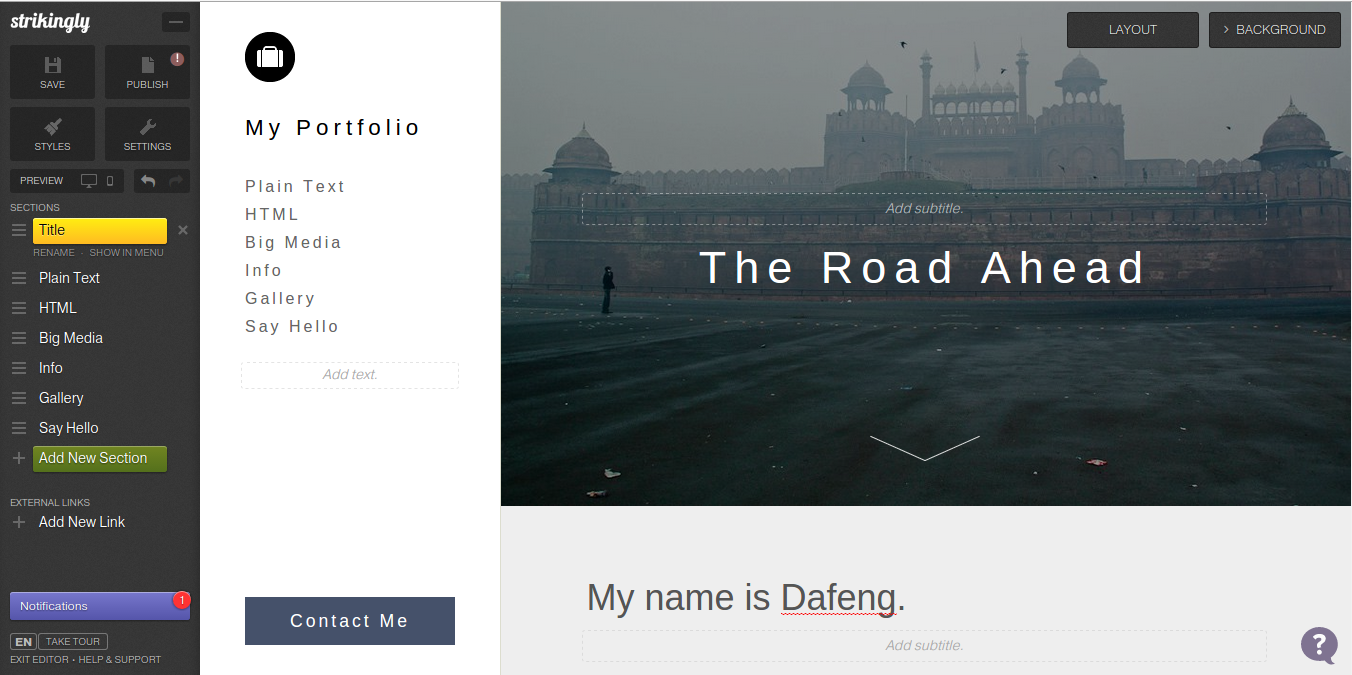 The interface you use to edit your website is intuitive. Easy to learn and simple to understand, an average computer user can quickly get familiar with such an interface.
After you have chosen the template you want to use, you begin customizing it by simply clicking on elements such as texts and replacing whatever is there with your own content.
Its pretty much similar to a power point template you edit to make your own presentations.
The drawback with this is, its very much likely that people will end up with websites that look the same. Its quite hard to make your website look unique, as in the design and layout since you can't even reposition elements.
Strikingly Features
Regardless of the simplicity, Strikingly has got a mazing features which you can add onto your website. Surprisingly, you add all these features on just a single page in form of sections.
Some of the features you will get to use include the following:
Apps & HTML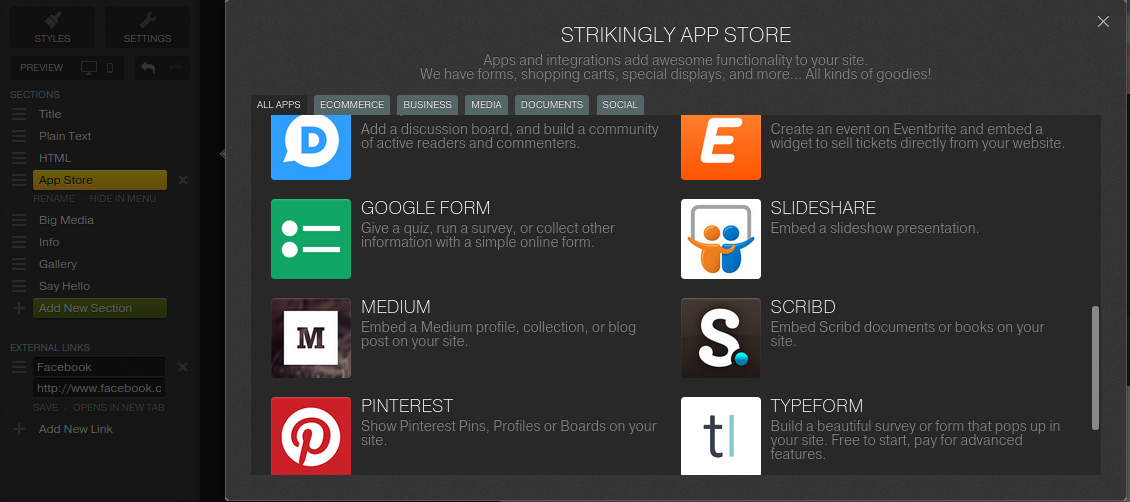 You can add a section to your page and embed any third party service or write your own HTML code, add predefined apps from Strikingly.
Some of the common predefined apps you can add to your website from within Strikingly include:-
Paypal (receive payments)
Ecwid (Online Store)
Celery (Accept Preoder and charge latter)
Google Maps
Google Form
SoundCloud (Embed tracks)
Wufoo (Building surveys)
Slider
Adding customizable sliders is one of the great features you get to use with Strikingly web builder. However, this feature is only available to you if you upgrade to premium.
Simple Blog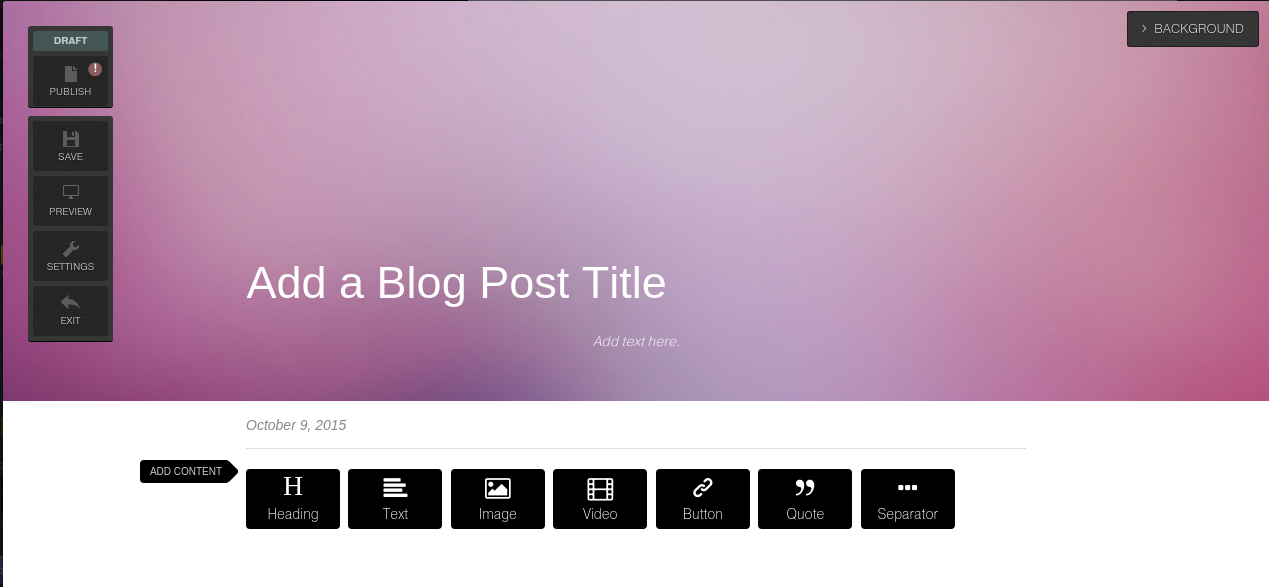 You can write and display a section of your own blog posts on your website. This is a great way to keep content on your website fresh always.
Gallery
Strikingly also makes it easy to add a gallery section of your photos and videos onto your site.
You add videos by providing a URL of the video from a video hosting source such as Youtube and Vimeo. You don't have to upload the video, except for the pictures which can be uploaded directly from your computer.
Social Feeds
A section of your social activities from different social media can be added to your website. For instance, you could feed your website visitors with some twits from your twitter account.
Styles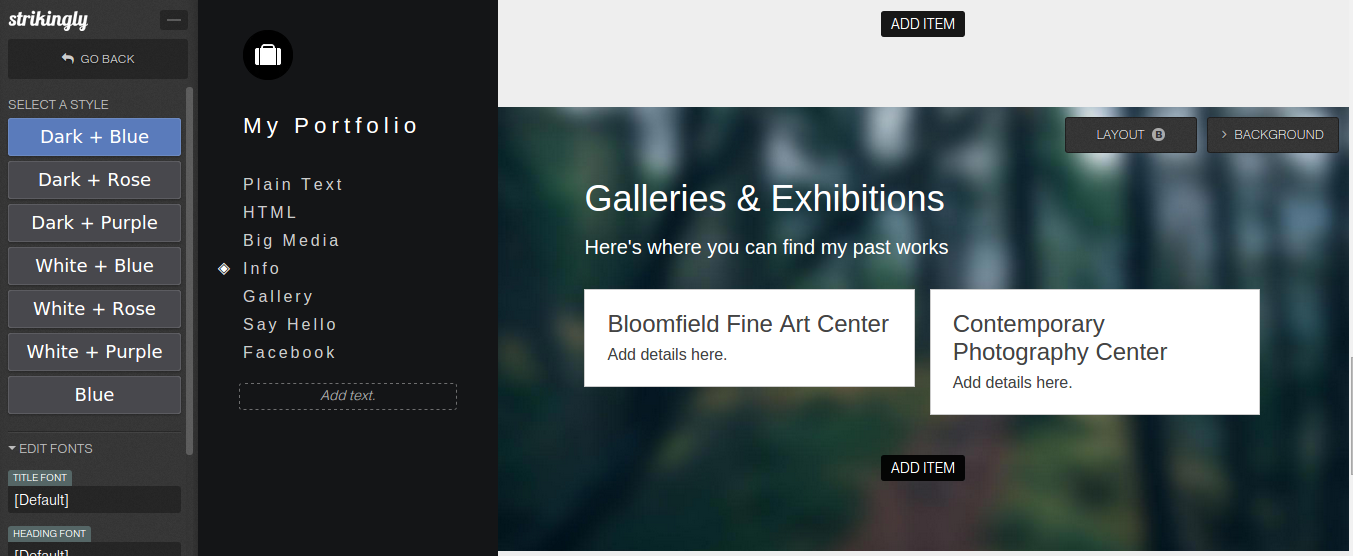 Styling your website with Strikingly shouldn't be hard, because you can switch layouts, change background, colors and fonts with much ease.
Settings
They also allow you to set and tweak your website with both basic and advanced settings.
You can register a custom domain, however, this feature is only available to premium users. Free users cannot connect a custom domain to their website.
Pricing
---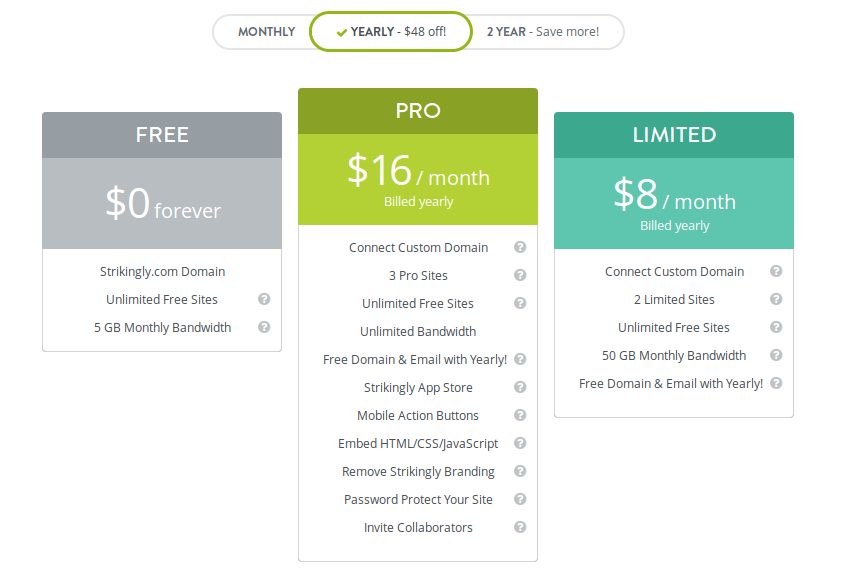 Strikingly has a completely free plan and a premium plan.
Premium plans are billed 3 different cycles, monthly, yearly and per 2 years. As you may see from the image above, a pro yearly plan is billed at $16/month and a Limited plan is billed at $8/month.
Who Strikingly Website Builder is for…
---
Strikingly state it clear in the manifesto that…
The Internet's full potential should not be restricted to just those who are tech savvy. Its power should be shared with everyone. It should be simple. It should be meant for the masses.
They are simply on a mission of making it easy possible for every one out there to be able to put their idea online, regardless of their technical skill set.
I have to admit that Strikingly is not for every one, some people will find Strikingly hitting below the belt. While for others, its exactly what they've been searching for.
If you are looking to build:-
Portfolio
Personal website
Small business website
Event
…and you want to build it the easy and simple way but still keep it beautiful, then there is no doubt Strikingly will do the job right for you.
Here are some of the examples of websites that people have built using Strikingly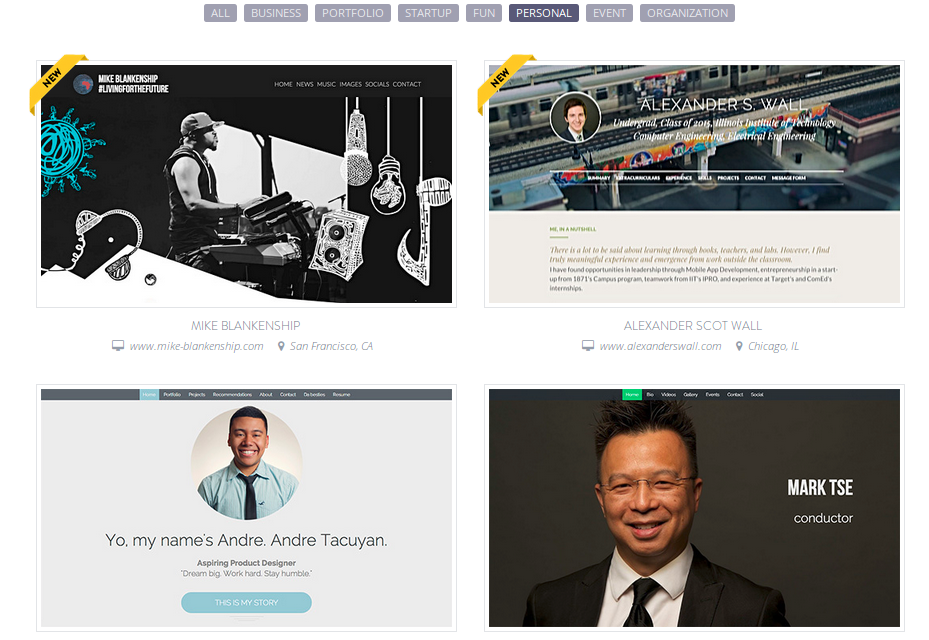 Pros & Cons
---
You will like Strikingly for some reasons but also dislike them for another reasons as well.
Pros
Here is the good side of using Strikingly Builder
Completely Easy to build a beautiful website
Can build a quick portfolio using linkedIn profile
Beautiful free templates
Both freemium and premium options to choose from
Mobile friendly websites
No coding skills required
Cons
These are the drawbacks of using Strikingly website builder
1 paged (leads to long pages)
Customization restriction
Few templates
 Final Remarks
There is no doubt that you will build a beautiful website easily with Strikingly. However, don't take my word for it, click here to try this builder for yourself free.
After you've built your website, share your experience with me in the comment below. Don't forget to leave the link so I can visit your website if you don't mind.
For any comments, leave them below and I will be more than happy to read and reply to you.